About June Koch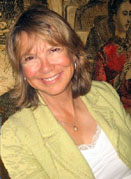 "Painting is my solace, a place I go to find peace, express inner thoughts
and times of joy. The brush and paint capture the personality of my
subjects...my work captures me and my inner soul. Each work is hours of
expression, inspired by impressionism; the use of light and color capturing a feeling, a scene."

June's focus has been inspired by New England and more specifically, summers on Nantucket Island. Many of her paintings show the Island in all its beauty of oceanic scenes and landscapes. Her versatile technique reveals a tranquil spirit with great depth of mood. She received a BA in art from Syracuse University, has worked with Jim Chromartie and Kerry Hallam on Nantucket and has attended workshops with such notable artists as Frank Webb, Barbara Nechis, Jeanne Dobie and Marvin Friedman. June has exhibited her watercolors in galleries all across the North East, including NYC, Nantucket Island, Princeton NJ, Vermont, and New Hampshire . Along with receiving numerous awards, her works are also on display in various public and private collections including banks, corporations and homes of prominent collectors.
Teaching art is her joy. June believes art is inside of everyone . "Everyone has creativity within; it's the opportunity to express this creativity that is the real gift". June's main studio is in Exeter, New Hampshire, but she also paints from Boston's South Shore and Florida. When not teaching she is working on her commissioned paintings of children, family, pets, houses, sailboats, landscapes and her own creative works. Her love is the ocean, shape and design of flowers, animals and people, but when painting, inspiration takes over. "It's inspirational to capture not just a likeness but the essence of the subject I am painting, my desire in achieving that essence is my stimulus to paint."